We are constantly striving to provide you with the most up-to-date information on minimally-invasive injectable treatments. Please read the following answers to our patients most frequently asked questions. Should you have any additional questions, please feel free to contact our team at 480-687-8996 — we are happy to help!
All things BOTOX:
What is botox/filler made of?
What is botox/filler made of?
Botox is an injectable drug made from botulinum toxin type A. This toxin is produced by the bacterium Clostridium botulinum (a milk protein). and the Dermal Fillers we use are composed of hyaluronic acid, which is a reversible, naturally-occuring acid found in the human body.
How much do you charge for Botox?
We charge $12/unit for both Botox and Dysport, this way you never have to choose between the two (and we reconstitute accordingly). Most people require around 20-30 units per area (high forehead, eleven lines, crows feet) so expect to spend around $240-360 per area treated.
How important is botox for "prevention" I'm 28 and planning to have more kids in the next few years. Wondering if is could just wait until I'm done with kids since you cant get it while pregnant or breast feeding? If you'd like to get started now (before and in between pregnancies), I would say it's safe while you are NOT pregnant or breastfeeding. Botox is simply preventing lines from forming and relaxing lines that already exist while it is in the muscle (approx 3-4 months).
Botox lip flip! Do you recommend? We love the botox lip flip! This non-invasive treatment is an awesome way to help those with a small upper lip show more of their pink border. A lot of lip filler patients start with a Botox lip flip.
I want to try Botox but the safety is concerning. Has there been any long term studies? Botox injections are safe when performed by an experienced provider. Possible side effects and complications include: Pain, swelling or bruising at the injection site, headache or flu-like symptoms. The FDA would not deem this medication as safe if they did not believe it was appropriate for patient use. Also, I would not practice using this medication if I felt it was any type of risk for patients. Neuromodulators have been used even more long term in other countries outside of the US.
Can Botox in your forehead make your eyes look more awake/reshape your eyebrows?Absolutely- botox can help to relax lines and also provide lift to the eyelids and brows.
What do you do for around your eyes? Crows feet? We can use Botox Cosmetic for the softening and prevention of Crow's Feet.
What brand of injections does she use? (Botox Dysport) Whats the difference? Botox and Dysport are both neuromodulators that help to temporarily relax the muscles that cause lines from repeating expressions/movement. There are a few other neuromodulators on the market, but in my opinion Botox and Dysport are the superior medications in the market (and all we use in our practice). They are both similar in nature–think of it is as tissue vs. Kleenex. When it comes to dosing I believe you should never have to chose between the two because of price. That being said, I will reconstitute appropriately so the pricing is the same.
I have deep wrinkle lines in my forehead. Will botox help or is it too far gone by this point? Absolutely! Botox immediately softens and prevents lines from forming, and for lines that are "etched" into the skin, you will notice an improvement after just one treatment (but full reversal may take up to a year of consistent injections).
What to do for turkey neck? If the patient feels they have a "double chin", we can use a combination of fillers (to rebuild bone loss in the jawline, or for a recessed chin), and Kybella to permanently destroy fat cells. If a patient has excess, sagging skin, I would recommend a consultation for a deep plane, SMAS face and neck lift. cc: Dr. Terry Maffi @mafficlinics .
I'm much older than you (66) recommendation for sagging neck skin? If you are looking for non-surgical options, Botox (injected into the platysma bands), fillers, great skin care, and skin care treatments can help to soften the effects of aging. If you are looking for a more "one and done" procedure, I would recommend a meeting with our medical director, Dr. Terry Maffi @mafficlinics to discuss surgical options.
What would you get for the turn down of the corners of the mouth, would that be filler? Typically, we use a combination of botox and filler to help lift the shadows and folds and botox to soften the muscles that pull the corners of the mouth downward.
All things FILLER:
How much is the rate per syringe? In Texas is $675 any cheaper versions? – All filler products vary in price based on the quantity and duration of the product being used. On average, fillers are going to range from $500-$900/syringe. Please be very cautious when selecting your injector- getting a "deal" is oftentimes not as good as it seems as fixing "bad work" can end up costing you far more than doing it right the first time.
Suggestions for getting rid of smile lines? I hear fillers there look bad/fake? Smile lines can be improved by injecting the cheek (for lifting) and directly into the nasolabial folds (lines around the mouth). Correctly placed filler does not look "bad or fake"… I like to say that "good work is invisible".
Do fillers on corners of mouth from injections from marionette lines look natural? When placed correctly, marionette filler can absolutely look natural. Botox in the marionette lines can also help to relax the muscles that pull the corners of the mouth down.
If a person is carrying some extra body weight are face fillers and botox still noticeable or what types of procedures does she recommend for someone who has a plump face? Is there anything that can give definition to a plump face if someone is carrying extra weight? It seems counterproductive, but adding fillers to the correct spaces can actually make the face appear thinner. It's all about strategic placement to help reflect lights and shadows and create contour.
I want to get my lips done but I get cold sores and I'm nervous about an outbreak! Any advice? This is a common concern/fear with patients that experience cold sores. In our practice, we prescribe valtrex for 10 days prior to and after the procedure as a prophylactic (means of prevention). There is no "guarantee" that you wont get a cold sore, but I have seen this significantly improve the odds for patients.
Which type of plumper do you get in your lips and how many units? Jaci typically receives 1 syringe of Juvederm Volbella in her lips.
Would love to do my lips – how long does it last for? Depending on the product selected, lip injections typically last between 6 months- 1 year.
My Juvederm dissolves after a month. What's a longer lasting lip filler? We love Juvederm Volbella, it is a very naturally-appearing filler and lasts up to 1 year for patients- Awesome longevity!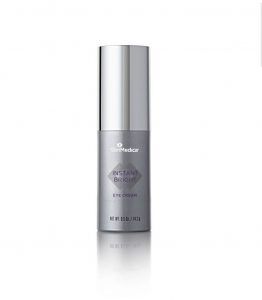 Best for under eyes? Hollow/wrinkles dark circles?
Under eye bags are complex; some patients are great candidates (and in these patients I typically use Volbella). For the patients that are not good candidates, sometimes Cheek Filler is better suited (Voluma), sometimes surgery is recommended (for sagging, excess skin, extreme mags/malar festoons). And sometimes, a great brightening eye cream and peach concealer is best–linked
here.
The Charm School Podcast has an episode dedicated to this topic as well! You can listen
here
.
How long does bruising swelling last with lip plump? I would recommend that patients have injections done at least 2-4 weeks prior to an event. Most bruising and swelling is the "worst" up to 96 hours after the procedure, but full healing can take up to 4 weeks.
Any negative long term effects of fillers? When fillers are done correctly, they help to stimulate collagen, lift sagging skin, improve shadows and folds, and replace volume that is lost with aging. Appropriate fillers only help you to age well.
What is recommended for face volume/collagen loss? The most common area for volume loss is the mid-face (aka, cheeks). Oftentimes, patients do not notice that they have lost cheek volume, but instead notice "tear trough hollowing (dark circles under the eyes)", smile lines (lines around the mouth), and changes to the jaw line (jowling). The cheek is usually the most natural place to replace volume and will get you the most "bang for your buck".
Thoughts on PDO threads from women in their early 30s? Personally, I do not practice PDO threads. As an aesthetics nurse injector that was trained by (and worked for) a double-board certified facial plastic surgeon I have not seen results that are impressive (as of yet) with PDO threads. In my opinion, I believe the best option for lifting for patients in their 30s/40s is filler, and for older patients, a deep-plane SMAS face and neck lift. The average age for face lifting procedures in the United States is 58 (some patients need this earlier).
All things SUN DAMAGE:
Best laser for melasma? Lasers are difficult for melasma because melasma is aggravated and worsened by heat (and lasers put off heat during and after procedure). I would recommend microneedling with PRP, chemical peels (with appropriate formulations for melasma), and lasers specifically designed for melasma (check with your provider for a consultation/appropriate treatment options).
Any recs on getting rid of skin discoloration due to sun damage? An alternating schedule of microneedling with PRP, and chemical peels every 4-6 weeks (and lasers for the appropriate patients).
I have so many face sun spots. What kind of facial treatments do you recommend?
See above. Also, a home care regimen with
Vitamin C+E
,
Retinol
, and Hydroquinone (or brightening agent) for lightening of the hyperpigmentation. And, don't forget the sunscreen! 😉